Guest ordering data from Union's OnPrem Insights reveals that the brand's fall from No. 1 was swift following the marketing controversy that spurred a nationwide boycott. Sales of what was once America's best-selling beer dropped 2.6 points from 11.3 percent dollar sales share to 8.73 percent at Union's network of thousands of high-volume venues in the first week of the boycott alone. That sales spiral continued throughout Q2 at Union venues as the boycott took a stronghold across the U.S., dropping 34 percent in sales share compared to the prior year, since the fallout began on April 1.
That's when transgender influencer Dylan Mulvaney posted an Instagram video promoting a Bud Light contest. The post has since garnered 13,000 comments and set off a boycott by the brand's more conservative drinkers — followed by a backlash from the LGBTQ community and its allies, who say that parent company Anheuser-Busch InBev hasn't done enough to support the influencer they once proudly partnered with.
Miller Lite Takes the Lead at On-Premise
"Our on-premise ordering data shows that domestic beer brands are reaping the most benefits from the Bud Light fallout," says Layne Cox, chief marketing officer at Union. "Modelo may have unseated Bud Light at retail, but at high-volume bars and restaurants it's a different story."
While Modelo has been widely reported as the new king of beers in the off-premise channel, Union data reveals that guests are now spending more on Miller Lite than Bud Light in on-premise accounts. Miller Lite's sales were up nearly 21 percent in the 3-month period ending June 30, while Bud Light's sales were down by 34 percent.
The Brewers Association estimates that 15 to 18 percent of beer, by volume, is sold on-premise (caveats due to Covid pandemic shifts).
The full-year data shows Bud Light still leads on-premise beer sales, both by dollar and unit sales, based on 12 month data ending June 30. But the past three months ending June 30 show ripple effects across the industry.
Bud Light Has Slipped to No. 4 at On-Premise
The new Top 3 lineup of Miller Lite, Michelob Ultra, and Coors Light overtook Bud Light in Q2 2023 at Union. While Michelob Ultra (also owned by AB InBev) managed to hold on to its second place ranking, Miller Lite (No. 1) and Coors Light (No. 3) all made significant gains in just three months, benefitting from Bud Light's downturn.
Miller Lite's 20.7 percent gains not only buoyed the brand into the No. 1 spot, but it secured its share at over 10 percent, bringing it close to Bud Light's pre-controversy share.
Guinness (No. 7) showed the strongest dollar sales share growth of all Imported Beers in the Top 10, and Union data shows that Guinness has rightfully earned its top spot in Q2. More than three percent of guests who ordered Bud Light prior to the controversy, but then stopped, have since ordered Guinness. That's a higher brand switch rate than Modelo (2.7 percent) and Stella Artois (2.4 percent), though not as high as the No. 1 contender, Miller Lite (7.8 percent).
"In terms of positioning, I wouldn't say that this is entirely surprising," says Dave Williams, vice president of analytics and insights at Bump Williams Consulting. "Modelo Especial may be a top contender in the off-premise arena, but it is still looking to close the gap on its number of draft handles and placements in the on-premise arena where Bud, Miller, and Coors have dominated from a representation perspective," he says.
Bud Light's Sharp Declines Are Stabilizing
Bud Light saw an immediate drop in April that continued into May, but sales stabilized somewhat into June, hovering around 6.25 percent share that month. In other words, they appear to have stopped tumbling.
"With the boycott still making headlines three months after the initial incident and Bud Light sales at Union venues still struggling, we believe it will take a while for the brand to see a full rebound," says Cox.
Bud Light is still relatively popular at high-volume venues — in fourth place ranked by dollar sales share — but this episode shows how a PR crisis or other sudden impacts to guests' brand perception can shift purchasing on-premise behavior very quickly, spurring fierce competition.
Union data comparing the 6-month period ending June 30, 2023 to the same period a year prior shows the sudden severity of the impact in the first week of April, and how sales continued to decline steadily throughout the month as attention to the controversy grew. By mid- to late-May, however, we see a break from the declines, a sign that Bud Light may finally have caught its breath from the severe downward spiral. So far, July sales continue to decline, showing 5.78 percent sales share for the week ending July 10, and a full rebound is not in sight for the summer season.
"While there has been sliding since April, [Bud Light] is still massive in scale," explains Williams, noting that it's still No. 1 in off-premise accounts on a year-to-date basis — data that's consistent at Union venues, as well. It's too early to count Bud Light out as a top contender for the year, he says.
"It's too important to the beer category in terms of both size and reputation, not to mention the crucial role it plays in the portfolio of hundreds of independent wholesalers across the country," he says. "I don't know if there is any rebound on the short-term horizon as we have yet to see signs of a return to form in the trends, but clearly there are a lot of stakeholders invested in stabilizing and then re-growing the brand as quickly as realistically possible."
Bud Light's Negative Impact is Greatest in North and South Carolina
Bud Light's sales impact varies across markets. Notably, the brand lost more share in markets where it was most entrenched. Looking at a representative selection of Union markets, North and South Carolina showed the biggest sales share decreases, while in California, the boycott's impact was practically negligible.
Dollar sales share of Bud Light is down in all of Union's top markets, and not necessarily representative of politically conservative demographics, with New York and New Jersey losing almost as many points as Texas.
The Light Group, a Hoboken, New Jersey-based restaurant group that includes Green Rock Tap & Grill and McSwiggans Pub, has kept its beer products the same amidst the Bud Light boycott, though sales have increased for Corona, Miller Lite, Coors Light, and Michelob Ultra. "We saw our numbers go up across the board for those specific brands," says Brandon Bovino, chief operating officer at The Light Group. "We haven't seen customers mad at us for carrying [Bud Light], more so customers commenting on purchases from other customers."
Chris Dimattia, owner at the Recovery Room Tavern in Charleston, South Carolina, says that he has also noticed a drop in sales. While the Union venue used to sell ten cases a week, now it sells one to three cases — a 70 to 90 percent drop in sales. Dimattia says he thought the backlash was over at one point when Bud Light sales picked up, but then they dropped again. "It's so hard to say," Dimattia says.
At Blind Tiger Pub, another Union venue based in Charleston, the experience was similar. "At first I thought this might blow over pretty quick, but I think it is pretty apparent that this isn't going anywhere for a long time," said Clayton Dukes, Blind Tiger Pub's general manager. He says the boycott has made a big impact, with Bud Light sales dropping to "almost non-existent." He replaced the Bud Light draft with Michelob Ultra due to the low sales. Miller Lite has especially become a top-selling beer for Blind Tiger since April, with Coors Light, Michelob Ultra, and Corona also benefiting from the boycott at this location.
According to Williams, a salient point that gets lost in trends reports is the "individual people impacted along the way." He says the brand's declines are not just impacting on-premise venues, but also wholesalers across the U.S. who sell the AB InBev portfolio — and sometimes only that portfolio.
Q2 Winning Brands: Miller Lite Takes the Lead
Mainstream brands, especially Miller Lite and Coors Light, have benefited the most from the Bud Light boycott, with some small gains from Imported beers.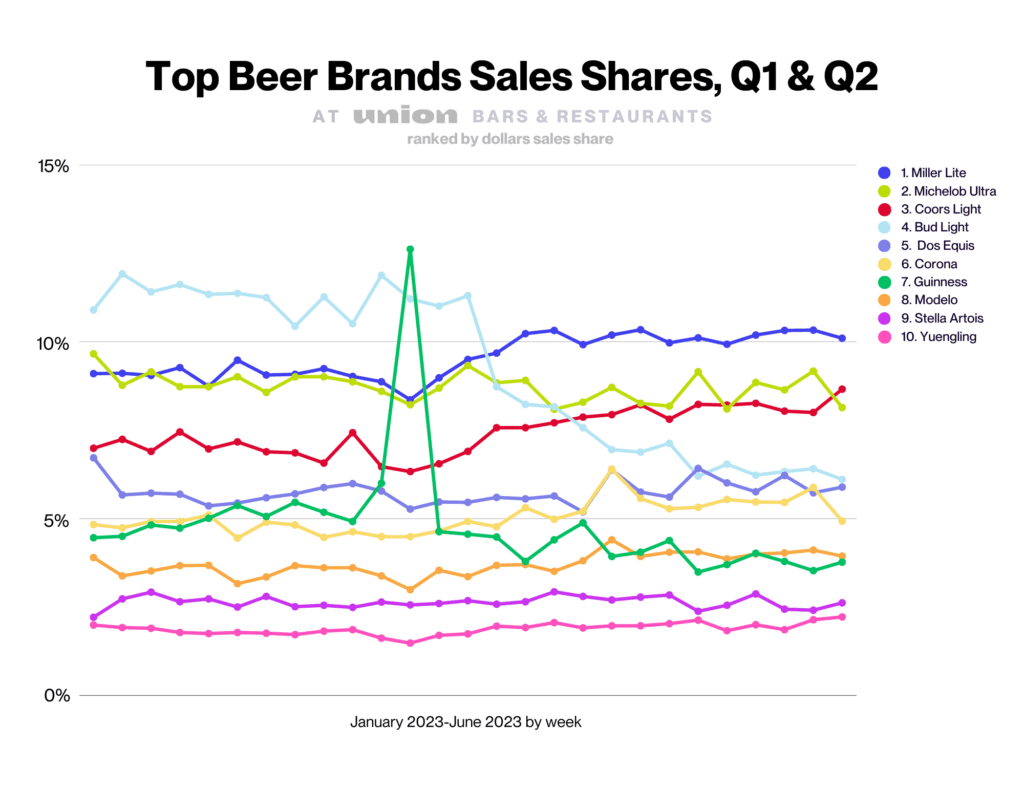 Michelob Ultra (also owned by AB Inbev) saw some dollar sales share growth (3.6 percent) and crept up in the rankings, though its growth trajectory is highly overshadowed by what Miller Lite (20.7 percent growth) and Coors Light (19.37 percent growth) have accomplished in just three months.
"The type of growth that Miller Lite and Coors Light had this quarter — about 20 percent sales share increases — is the stuff marketing dreams are made of," says Cox. "They seized the moment and leapfrogged ahead of long-time competitors."
Corona saw very slight gains, though Dos Equis growth was flat, while Guinness and Modelo saw some growth across the best-selling beers in Q2.
Cox explains that though their growth is impressive, it's not as significant as the domestic brands' trajectories. "Guinness and Modelo still represent a much smaller share of beer sales compared to the Top 4 brands. Their combined share doesn't even match Miller Lite sales on-premise at Union," she says.
Imports Are Fastest Growing Beer Category
Despite all the shifts in the domestic Mainstream Beer category, Import Beer has seen the most gains in the past year of the 12 months ending June 30, 2023, up 13 percent in sales share of the Beer/RTD segment (compared to Mainstream Beer's increase of just 5 percent). Craft Beer has seen the biggest decrease, down 15 percent in sales share.
In light of Modelo's off-premise success — which began before April but got a boost from the Bud Light boycott, according to Nielsen data — it's still a brand to watch for on-premise into 2024.
"With sales of Import Beers growing their share at Union's high-volume venues, what's considered a conventional brand by guests could be shifting. We expect to see even more movement in Union's beer data as the year progresses," adds Cox.
Williams adds: "The subtext here also paints quite an impressive picture for just how much more opportunity is out there for Modelo Especial to become even bigger than it already is."